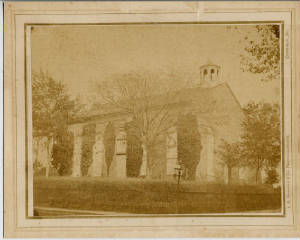 During the reign of William and Mary, Snow Hill Parish was established by an act of the Colonial Assembly called "An Act for the Service of Almighty God and the Establishment of Protestant Religion within this Province." The province was the colony of Maryland with Somerset County being the southern section of Maryland's Eastern Shore until 1742 when the eastern portion was designated as Worcester County with Snow Hill as the county seat. The early church records were destroyed in a Court House fire in 1834. It is known, however, that the first church building stood near the bank of the Pocomoke River in 1734 according to the original plat of Snow Hill.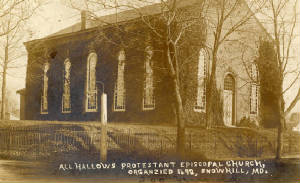 In 1748, an Act of the Colonial Assembly was passed for a levy of 80,000 pounds of tobacco for the building of "a parish church of brick to be erected at the east corner of Market and Church Streets, opposite the town market lot." Eight years later an additional levy of 45,000 pounds was necessary to complete the structure. Some of the bricks used to construct the church came over as ballast from England. However, most of the bricks were locally made. The ivy covering the outside came from Kenilworth Castle in England.
There have been alterations to the original structure. Box pews and side galleries were removed in 1872 and the original brick floors were covered. The present altar, reredos, ceiling, and slate roof were built in 1891. Stained glass windows replaced the original clear panes in 1899.
All Hallows is proud of its many gifts from "Queen Anne's Bounty." Those gifts include a Bible, linen Eucharistic veil and a bell. The bell originally hung in a belfry at the west end of the church. It was removed in 1891 when the slate roof was installed. It hung in the crotch of an ivy covered cedar tree in the churchyard for may years. It currently hangs in the lych-gate.
The cemetery contains graves dating back to the early 1700's including graves from both sides of the Civil War.

Let loving hearts and hands maintain and strengthen and beautify this venerable old structure, as the centuries pass by, and as generation after generation is laid away, under its quiet shadow and in the presence of its Divine "Light of Light."
Amen. So be it (1901)